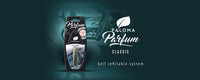 Parfum Classic
60 days effective Smell Perfectly combines the simplistic design with a multitude of perfumes, so it becomes one of the most appreciated products.The perfume has a high concentration, it can be dosed according to your preferences.
VIEW MORE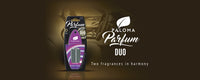 DUO
The UPGRADED design which allows you to have 2 different scents in 1 air freshener. You can choose from using both at the same time for a combined pleasant smell or use them individually for up to 120 days pleasantly smelling air freshener.
VIEW MORE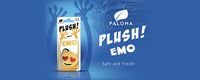 EMO Plush
Paloma Emo Plush evokes a good mood and at the same time provides a long lasting pleasant fragrance in your car.
VIEW MORE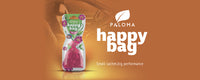 Happy Bag
Paloma Scented Plastic is the result of our latest development. The odorizing material is injected into tiny pearls by a special technology.
VIEW MORE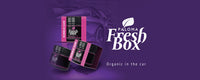 Fresh BOX
Paloma Fresh Box is the new generation of canned fragrances. The box is sized for the car cup holder and contains a large amount of fragrance in a special, environmentally friendly, porous carrier that evaporates evenly over a long period of time.
VIEW MORE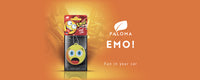 EMO Line
This is the perfume on the most classic absorbent paper. As a result, it is the one that costs the least of all. It is also definitely the most desired perfume for cars.
VIEW MORE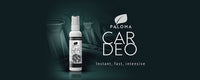 Deo Spray
Refresh and invigorate any space of your car or home with a simple pump spray air freshener.
VIEW MORE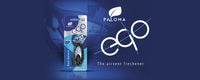 Ego
The design of the Paloma Membra System that can be placed on the air ventilation grill.
VIEW MORE
Paloma Car Air Fresheners UK Welcomes you New Visitor!
Welcome!
We are Based In Birmingham UK, and we ship our products every 2- 3 Working days. In case you don't receive your items please contact us by accessing our Contact Page and we will sort something out for you, in a manner that you will always be Happy that you have used Evolution Air Fresheners LTD.
So why are our Products so Unique?
1. They have Liquid and a Cardboard area where you can Pour Liquid Every time you want them to smell again.
2. You can Control How Strong They Smell by adding only a small amount or a larger amount onto the cardboard.
3. They Last Between 2-3 Months depending on how much liquid you add on the cardboard.
4.They cost only £2.49/each if you buy 2 and even less if you order 10 pack or 16 pack.
5. Because of everything mentioned Above we have more than 835 Customers that have left us reviews and 99% are 5 ⭐⭐⭐⭐⭐
Thank you for taking the time to read all of this!
I hope you will find a Scent that you love just like the rest of our customers did, even though at first purchase they we're not sure which scent to choose!
Let customers speak for us